We supply the best safety mats in the UK for great prices. As foam safety mat specialists, we work with numerous organisations to supply protective matting for a range of indoor and outdoor uses.
We offer products that absorb impact, protect people using the area, and prevent damage to floors and equipment. The foam surfaces that we provide are commonly used in schools, sports clubs, and recreational sites for both professionals and beginners.
A range of sizes and specifications are available so you can choose the most appropriate foam mat for your requirements. Please contact us to discuss the costs of these protective foam mats, and we would be glad to answer any questions about the products we offer in more detail.
Safety Mats for Schools and Clubs Near Me
Many schools and sports clubs look for foam mat suppliers as they need a protective surface for different sporting activities. We can provide impact-absorbing landing mats for gymnastics, climbing walls, and athletics events like high jump and pole vault. Other uses for these safety mats include rugby post protection pads, martial arts floor areas, gymnastics, and general PE activities in school.
The use of safety mats within a school can allow children to learn new skills and introduce them to athletics. This can produce future hobbies for the kids along with providing a good form of exercise. The safety mats are made with PVC covers and foam inners that provide maximum comfort and safety. The specifications range in size and depth depending on the amount of protection that is required.
Fill in our contact form if you would like some more information about the mats we provide for local gyms, schools, clubs, and other facilities located closest to you. We have experienced foam safety mat suppliers and will gladly send you some more detailed product descriptions and an idea of the costs.
Protective Safety Matting
As well as supplying protective safety matting for sports facilities and their surrounding areas, we also offer other products such as keg mats, cellar protection safety pads, and protective wall matting. These can be used in many different facilities including bars, pubs, restaurants, and domestic homes. Keg cask cellar mats are often used when transferring beer containers into cellars for storage.
If the kegs were dropped straight onto the floor this could damage the container and the floor surface. This is why protective matting should be utilised to absorb impact and prevent damage to stock or the storage area.
The keg cask drop mat pads are designed with a heavy-duty plastic cover which prevents deterioration in damp and dark conditions. A range of sizes is available depending on the surface use and the area dimensions.
The sizes for sports crash mats, martial arts protective surfacing and climbing wall landing areas will also vary and can come in different dimensions to suit your requirements. If you'd like more info on martial arts safety mats, have a look at this page. Get in touch today. As foam protective surface suppliers, we would be happy to discuss the different options and specifications for protective matting in sports facilities and hospitality businesses.
If you are interested in getting a safety pad or wish to receive more information, please send us your details by completing our enquiry form. One of our expert team members will reply to you as soon as possible to help you with your queries.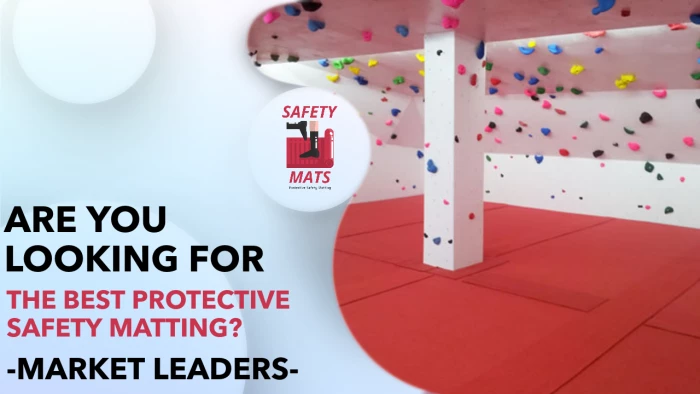 How does a safety mat work?
A safety mat is similar to a big, normally open switch that is part of a safety circuit. When pressure or weight more than a defined minimum is applied to the top of the mat, the top conductive plate makes contact with the bottom conductive plate.
What are electrical rubber safety mats?
Rubber safety mats that have been electrically insulated to keep you and your coworkers safe from electrical shocks.
It will safeguard you not just from live electrical equipment, but also from any defective electrical equipment you may come into contact with.
What is the function of the safety mat?
There is no physical barrier between employees and dangerous motion when using a safety mat. Safety mats must stretch far enough away from the dangerous motion to prevent a person from reaching the hazard before it has stopped.
Other Safety Products We Offer
Contact Us
If you would like to receive more information regarding the safety mats , please fill out the provided inquiry box. A team member will be happy to answer any questions you may have and provide more detailed information if necessary.